We are a family business with roots in the amazing nature of Värmland. With a genuine interest in ski sport, together with a long experience from retail and service and an aim to contribute to a more sustainable world we developed RentSki. Our goal is provide you with the best service and ski equipment in top class, so you will get a fantastic ski holiday.
Our assortment consists of the most known and qualitative brands within the ski sport business such as; Salomon, Völkl, Black Crows, Atomic, Nitro, Dalbello, Scott and Fischer.
We wish you a very warm welcome
Maria & Tomas with team
Book latest December 14 and get
Use the discount code RENTSKI10 when booking
RentSki is located 34 km south of Branäs, in the cross between E16 (E45) and Road 62. No matter if you come from the South of Sweden, Denmark, Germany, Holland or Mälardalen in Sweden you will pass our store on your way to Branäs, Sälen or Trysil. Stop by and you will be able to rent skis, snowboard, boots, helmets, poles and back protection of highest quality to a great price.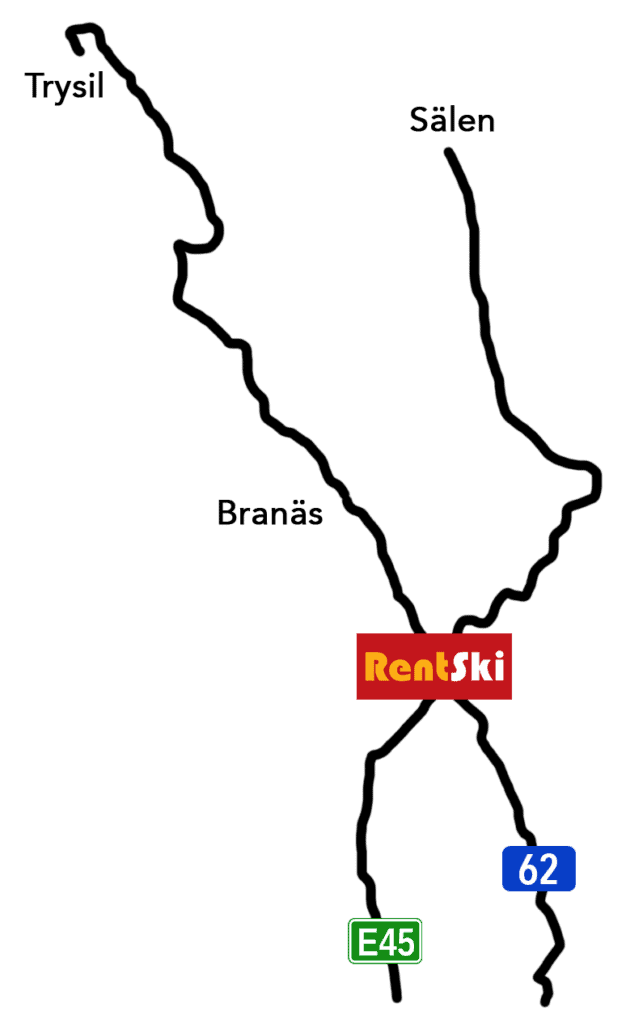 Beginner 520 kr
Intermediate 670 SEK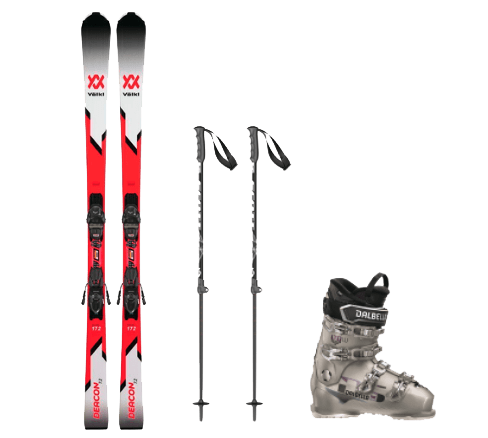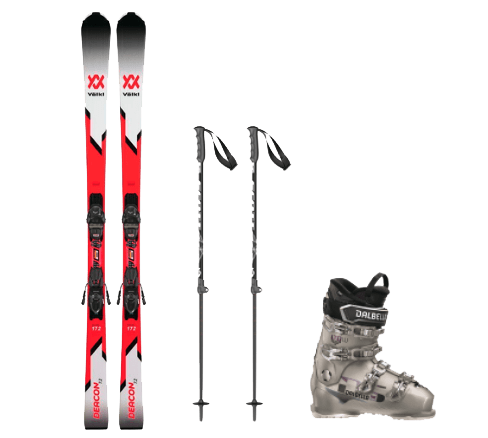 Beginner 520 kr
Intermediate 670 SEK
Our store opens week 50 but you can already now pre-book your ski equipment in our online booking.
Opening hours week 50-14
Monday 9.00-14.00
Tuesday 9.00-14.00
Wednesday 9.00-17.00
Thursday 8.00-19.00
Friday 9.00-17.00
Saturday 9.00-15.00
Sunday 8.00-19.00
Exceptional opening hours Week 51, 52, 1, 7, 8

Monday 9.00-17.00
Tuesday 9.00-17.00
Wednesday 9.00-17.00
Thursday 8.00-19.00
Friday 9.00-17.00
Saturday 9.00-17.00
Sunday 8.00-19.00
24.12 9.00-14.00
31.12 9.00-14.00
Outside regular opening hours call or send us an e-mail and we will find a solution for you to pick-up or return your equipment.
info@rentski.se
+46 (0)563-819 00
A warm welcome from
Team RentSki
We are very proud of our customer reviews and ratings.
Here you can read some of our customer's experience with ski rental at RentSki.
68 reviews on
Jenny Jonasson
2022-03-10
Smidigt och prisvärt. Service- och lösningsinriktad personal. Mycket nöjda!
Peter Alexander - Alex Huis
2022-02-26
Jenny Josefsson
2022-02-24
Mycket bra utrustning! Personalen var jättetrevlig och hjälpsam när vi behövde justera vår förbeställning. Smidig upphämtning och tillbaka lämning.
Alesia Andersen
2022-02-23
Andra gången hyr vi skidor hos RentSki och nu igen fick vi perfekt och väldigt trevlig service, massa tips och rekommendationer. Härliga människor!
Alexandra Brand
2022-02-20
Superfina skidor och fantastisk service. Smidigt att hämta upp efter ord öppettider och jättebra priser!
Sheila Campbell
2022-02-20
An easy 5 ⭐️.Quick & friendly service. All equipment was fresh, NEW, and ready to go! Appreciated the offer of back protection. Recommend without hesitation. Perfect if you're heading to Branäs! Easy to book in advance.
Nina Holm-Hansen
2022-02-20
Flinke folk og fine priser.
Michael Engvall
2022-02-12
Bra priser. Snabb service av engagerad personal.
Emilia Gunillasdotter
2022-01-30
Utrustning i fint skick. Bra service och smidigt att stanna till på vägen till Branäs.