RentSki is located at the junction between E16 (European route 45) and road 62. If you arrive from southern Sweden or the area around Stockholm, RentSki is on the way to Branas resort (Branäs), Salen area (Sälen) and Trysil (Norway).
Week 50-15
Monday 9.00-17.00
Tuesday 9.00-17.00
Wednesday 9.00-17.00
Thursday 8.00-19.00
Friday 9.00-17.00
Saturday 9.00-17.00
Sunday 8.00-19.00
Exceptional Opening Hours
24.12 10.00-14.00
25.12 10.00-14.00
31.12 10.00-14.00
1.1 10.00-17.00
Outside regular opening hours call or send us an e-mail and we will find a solution for you to pick-up or return your equipment.
info@rentski.se
+46 (0)563-819 00
RentSki is located 34 km south of Branäs, in the cross between E16 (E45) and Road 62. No matter if you come from the South of Sweden, Denmark, Germany, Holland or Mälardalen in Sweden you will pass our store on your way to Branäs, Sälen or Trysil. Stop by and you will be able to rent skis, snowboard, boots, helmets, poles and back protection of highest quality to a great price.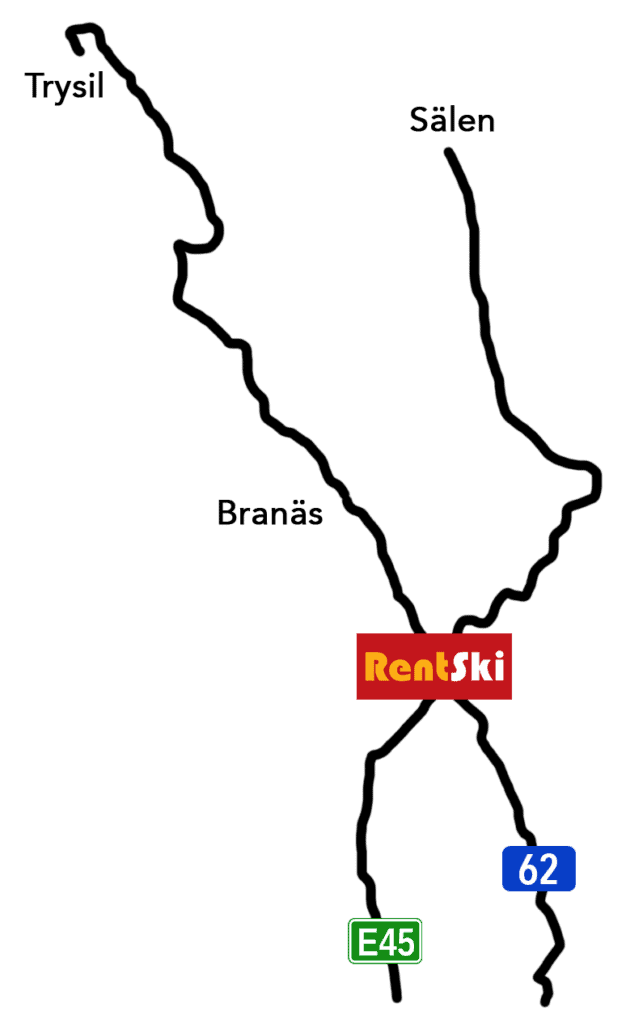 Latitude: 60.424371 | Longitude: 13.255804